Bit Boy!! ARCADE is an action focused avoid and collect game for Nintendo 3DS
You cannot wait for Bit Boy!! ARCADE? Sorry, but you must wait a little longer :_(
Enjoy the E3 with all its great news and surprises and stay tuned: Bit Boy!! ARCADE will be released this summer.
For now, here are some new screenshots: Kubi inclusive!
Our Bit Boy cannot wait to show you his new abilities - follow us on twitter and on Miiverse: @BplusGames
Let us become friends on Facebook too: http://www.facebook.com/BplusGames
Vienna - Tuesday, June 4th 2013
Screenshot-Update!
This time: Overview screenshots captured directly out of the game as always. In some Phases Levels may transform enormously or get enhanced with some additional geometry.
The Round Lollipop Overview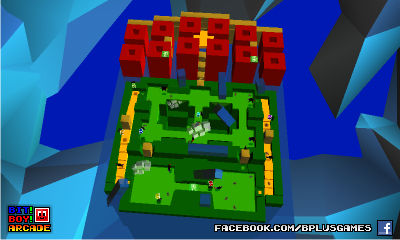 The Flat Garden Overview
The Pixel Iceberg Overview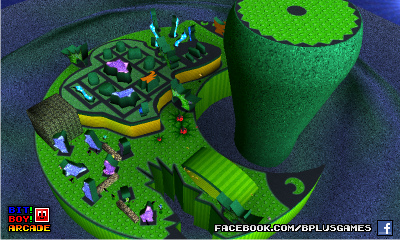 The Round Green Moon Overview
The Pixel Sea Overview
The Flat Park Overview
Vienna - Friday, May 24th 2013
The Flat Desert - Got a redesign for a more polished and more detailed look, evil black shadow bushes and moving bridges
The Flat Park - Full Action with ShadowMen, but Bit Boy Kubi can easily run on inclines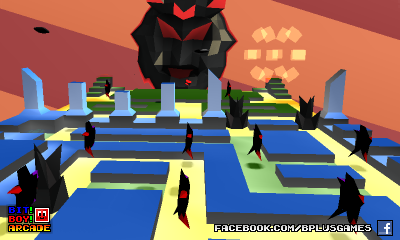 The Flat World Boss Stage - A flat shaded head boss should be in every game - Blast it away Kubi!
The Pixel Iceberg - Cold but pixellated with annoying penguins and Kubi Winter Song inclusive
The Round Beach - The beach in the Round World is one of the largest levels in Bit Boy!! ARCADE
The Round Doughnut - Looks peaceful but is one of the most difficult levels in the game! Save your PlayCoins!
The Round Green Moon is the last level in the Round World, right before the Final Boss Stage
Vienna - Thursday, November 22nd 2012
Kubi wants his first ARCADE game with even more polish, with better graphic effects and more monsters! Bernd the game designer (that is me) has no choice: the game has to become better and better and that means you need to wait a bit longer: Bit Boy!! ARCADE will be released in the first half of 2013. Stay tuned!
Our Bit Boy cannot wait to show you his new abilities - follow us on twitter: @BplusGames
The Round World - Round SunFlower: Much too round and smooth for our cubical pixel hero's taste
The Pixel World - Pixel IceBerg: For me it is just a virtual cool world - but Kubi does really get a cold there
The Flat World - Flat Desert: Shadow Bushes, Shadow Men and breaking bridges - still too easy for Kubi

Touch the images in your Nintendo 3DS Browser to watch the screenshots in 3D!

Los Angeles - Wednesday, June 6th 2012
First screenshots of Bit Boy!! ARCADE released
World 01 - Level 01 - Stage 01: Seek and rescue Kubi's pixel friends
World 01 - Level 01 - Stage 02: Hide from the spiked disc
Run Kubi, run! And do not forget about your friends!
Vienna - Monday, May 28th 2012
Play a very first demo at the E3


Bplus will be at the Electronic Entertainment Expo this year and Kubi will be with us. Contact press@bplus.at if you want to play the Gameplay & Control Demo Version 0.1 of Bit Boy!! ARCADE
and get an early touch of Kubi's first Nintendo 3DS title.

Bit Boy!! ARCADE is planned to be released later this year.

Take a look at these blurry teaser screenshots and stay tuned - the crisp visuals will be presented soon!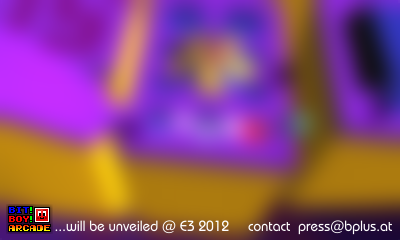 * * * * * * * * * * * * * * * * * * * * * * * * * * * * * * * * * * * * * * * * * * * * * * * *
Vienna - Wednesday, February 15th 2012
Game Designer versus Game Hero | Bernd VS Kubi

More than a BIT of emotions...


Witness what happens when the time travelling pixel hero Kubi finds out that he is only a part of a game.
Behold his emotions and get excited about the impact this will have on the game.
How will the battle between the game designer and his hero turn out?




Rescue Kubi's friends in every phase


Reach the score limit to master a level


New types of nasty, intelligent monsters


Shoot enemies up in the air with a pixel twist attack


Use bombs and rockets to blast monsters and enviroment


Use Play Coins to continue; which you will need to do a lot!


Move Blocks in a blink of an eye with new pixel kinetic forces


Use spring blocks to jump up and down between 3D platforms


Digital control in realtime with absolutely no movement lag


Different control schemes include touch screen input


Hunt for highscores to get medals in every level


Fight against huge and really hard Bosses


3D-Graphics with impressive depth


Level design progress in phases


Get wallpapers and more on Google+

http://gplus.to/Bplus
The Nintendo 3DS action maze game Bit Boy!! ARCADE is in develompment for the Nintendo eShop with a planned release in 2012.